David and I have this nutrition chart by Liz Cook hanging in our kitchen. Yesterday I felt that I was probably low in iron and wanted to eat something that would improve that. David took a look at the following section and announced that we would make cabbage leaves stuffed with tofu and red kidney beans, with tomato sauce, hummus and rice.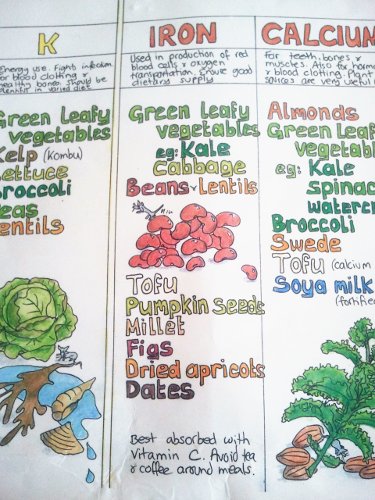 For the sauce
One onion, chopped
Two cloves of garlic, chopped
One can of chopped tomatoes
Small handful of fresh basil leaves
Salt and pepper to taste
Fry the onion in a little olive oil until it starts to get soft, before adding the garlic and frying a bit longer. Add the tomatoes and basil leaves, season to taste, and let it sit on a low heat for as long as you possibly can.
For the stuffing
One block of tofu (c. 250 g), drained and crumbled
One can of red kidney beans, drained and rinsed
Half an onion, minced
Two cloves of garlic, chopped
About a third of a chilli pepper, chopped
Soy sauce, cumin, smoked paprika and pepper to taste
Lemon
Again, fry the onion for a while, until it starts to get soft, then add the other ingredients and continue frying on a low heat. Add the soy sauce and spices to taste—we like lots of all these things. Right at the end, add a squeeze of lemon juice.
Stuffing the cabbage leaves
Six leaves from a nice-looking cabbage
This was our first attempt at stuffing cabbage leaves, although we've often made stuffed vine leaves before. Cabbage leaves are, well, less cooperative. They do look pretty, though:
Pinning them closed with cocktail sticks worked less well than I'd hoped, and we didn't have any clean string. We ended up nestling our stuffed leaves together in the steamer insert of the rice cooker and hoping they would hold one another closed. Steam them until the cabbage is cooked, however long that takes with your steaming method: in a rice cooker, with a dedicated steamer, or using a colander or balls of tinfoil as described here. The last method is probably only a good idea if you've got your parcels to hold together well.
For the hummus
One can of chickpeas, drained and rinsed
The juice of one lemon
Several glops of tahini (sesame-seed paste)
Two cloves of garlic, chopped
In an electric blender, blend the chickpeas with some added water. (You can mash them with a potato masher if you don't have a blender.) Add about three large dessertspoons of tahini, the garlic and half a lemon's worth of juice and blend it again. Adjust the quantities of these last three ingredients until you get the taste you want. I find that it almost always needs more lemon juice than I expect, for example.
Serve two cabbage leaves per person, with rice, hummus and tomato sauce. If you want to eat this while watching Iron Man or listening to Iron Maiden, I'm definitely not going to stop you!