For David's birthday a couple of weeks ago, I offered to make him birthday cupcakes from my most-used cookbook, Vegan Cupcakes Take Over the World. He asked for carrot cake cupcakes (original recipe here). They turned out to be so delicious, I made two extra batches over the next week.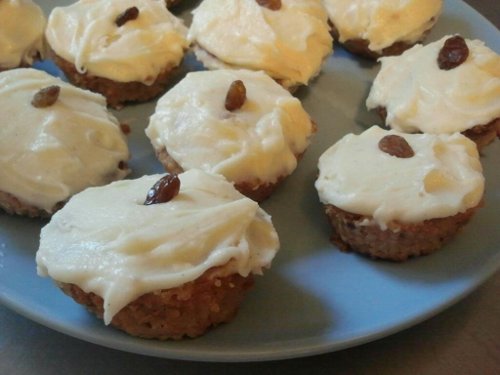 The icing, however, was a problem. As previously mentioned, I haven't been able to find palm-oil-free vegan margarine, and then I accidentally bought dairy mascarpone instead of vegan cream cheese. With David MacIver at my back looking up recipes, I made the following delicious but totally non-vegan icing, shown above:
250 g mascarpone cheese
85 g butter
400 g icing sugar
Juice of half a lemon
1 tsp vanilla essence

Mix everything together with an electric mixer. Resist temptation to eat the icing straight out of a bowl with a spoon.
For my second batch, I tried out this cashew cream cheese frosting recipe (subbing the coconut oil with sunflower oil). Mine turned out a lot darker and less smooth than shown in those pictures—perhaps my blender is lower-powered than the Rawsome Vegan Life blogger's. At first I wasn't blown away by the taste, and I think it's probably because this frosting doesn't really taste like cream cheese at all. It tastes like a delicious, creamy and cashewy treat, but calling it "cream cheese frosting" just set it up for comparison.
Two variations:
Use ground almonds instead of chopped walnuts (slightly less than 1/3 cup). This gives a finer, more even consistency and doesn't taste overwhelmingly of almonds. It would be good if you don't like surprise nut chunks in your cake.
Substitute the raisins with chopped dried apples and pears. They have a slightly less sweet taste. I liked this variation equally as much as the original recipe.