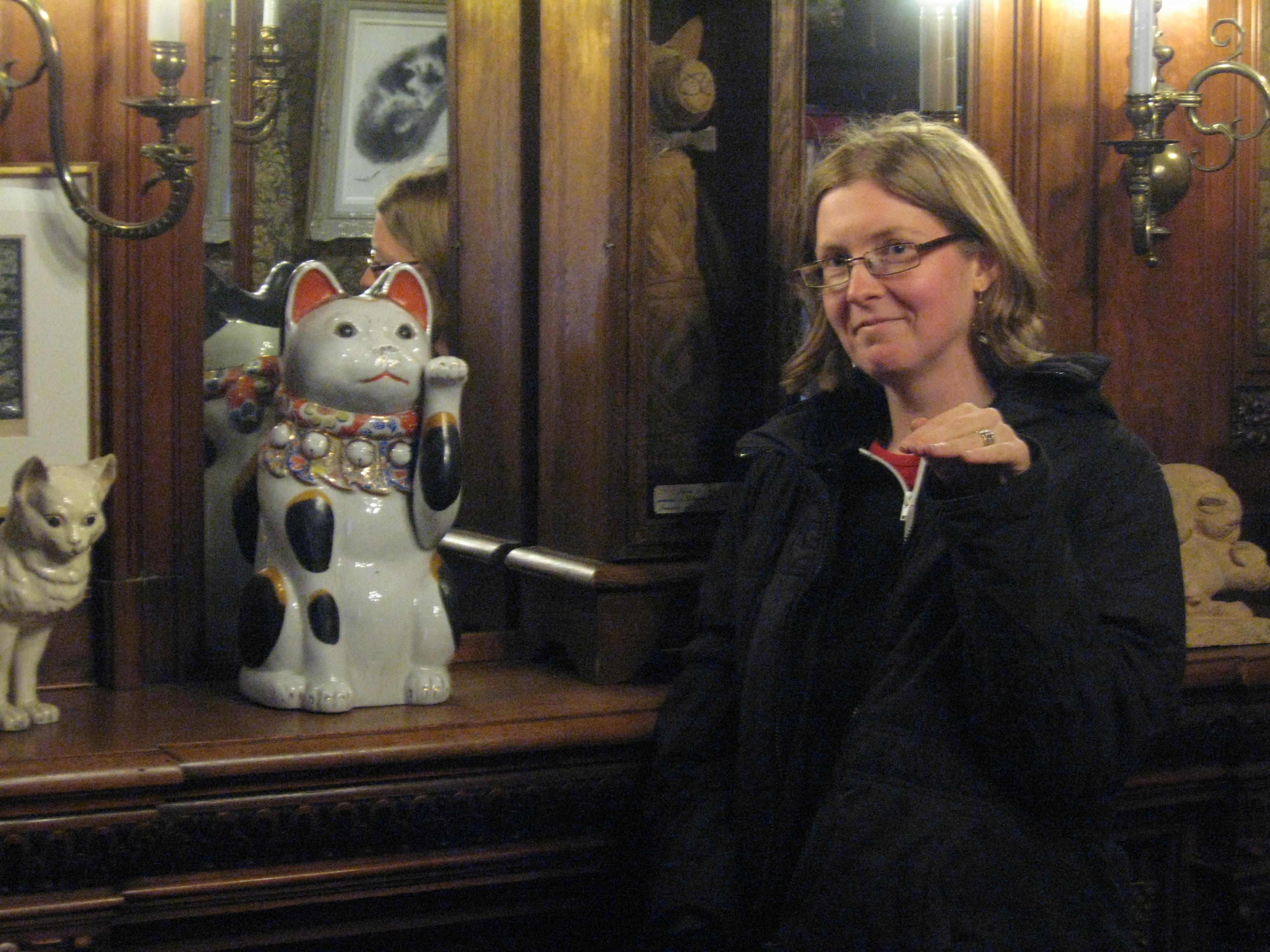 Hayley at the Cat Museum in Amsterdam
Hayley and I have been friends since we were 13, when we met at a birthday party and immediately hit it off over the pareidolic panda we saw in the artex ceiling of the kitchen. (We called him Paddy.) Despite not going to the same school, we met up frequently at weekends to hang around in town or at somebody's house. Hayley knew much more than me about music and introduced me to lots of my favourite bands. I thought she was much cooler than me. We were both shy but we never had any trouble coming up with things to talk about!
We got properly close over the summer when we were both 18. I was in a long-distance relationship with my first girlfriend, not out to my parents. Hayley broke up with her first serious boyfriend and then met the man who would become her husband, Miguel. It was a hot, floating, emotional summer. We spent hours together watching films, dancing at the 'alternative' club night at the Alex, and planning our future performing career, in which Hayley would read her poetry and I would accompany her on the bongos, then explain the themes of her work for the audience. I still haven't learned to play the bongos, I'm afraid.
Since then, Hayley and I (and Miguel!) have spent countless hours in each other's company. We've danced together, duetted together, been to amazing gigs and protests and exhibitions together. Beyond that, we've cooked meals, volunteered, litterpicked, and cried and snotted all over one another. I think I know her pretty well, and I can authoritatively say that Hayley is an amazing person.
To start off, Hayley is really brave. She's shy and often very quiet in person, but that hasn't stopped her from doing a huge range of things: organising concerts and festivals for charity; learning difficult new skills, like radio broadcasting and DJing; and taking on senior roles in volunteer groups. As a music reviewer, she's gone to lots of concerts by herself, and promoted her own work to blogs and websites. All these are things I would probably feel too intimidated to do, but I've never heard Hayley back down on anything because she was scared. I've seen her stand her ground against aggressive counter-protesters and street harrassers alike. She's even walked over fire and broken glass!
This brings me to my next point: Hayley is passionate, about nature, music, feminism, art, animal rights and life in general. Even better, she doesn't just let her enthusiasms push her through life, but she harnesses them to her impressive organisational skills and her creativity, to really make things happen. At the moment she runs a women's spiritual circle (sorry, Hayley, I can't remember what the proper title of it is!) and is working towards setting up an alternative healing drop-in centre in Southend, as well as hopefully being published in a new book.
Hayley is generous, always open to new ideas, and a truly accepting person. She's supported me through tough and confusing times, as I know she's helped lots of other friends. These characteristics also let her experiment boldly with new ways to express herself. As well as writing fiction, reviews and poetry, she's been a regular blogger for years. She also makes collages and draws abstract, dreamlike pictures. Recently she's been posting a lot of photographs on her blog. I love this one.
Last of all, I want to mention that Hayley is beautiful. She has a playful, colourful personal style, which often includes handmade jewellery from local artists, and pretty ginger hair, but what really makes her lovely is her smile. I am incredibly lucky to know Hayley and to be her friend.