Byzantium is a British-Irish film released in 2012, starring Saoirse Ronan, Gemma Arterton and Jonny Lee Miller — all big names — but it had a limited release and I hadn't heard of it before picking it up while Christmas shopping. That's a shame, because this film is a real treat.
The two characters at the heart of Byzantium are the vampires Clara and Eleanor, mother and daughter. Near silent and torn by having to keep the secret of their life together, Eleanor is forever sixteen years old and Clara supports them both by working as a stripper and prostitute. When they move to an English seaside town, Clara takes over the Byzantium boarding house and turns it into a brothel. Eleanor chafes at the claustrophobic relationship between the two, Clara's business and her habitual lying, but there are dangers nearing of which she has no idea.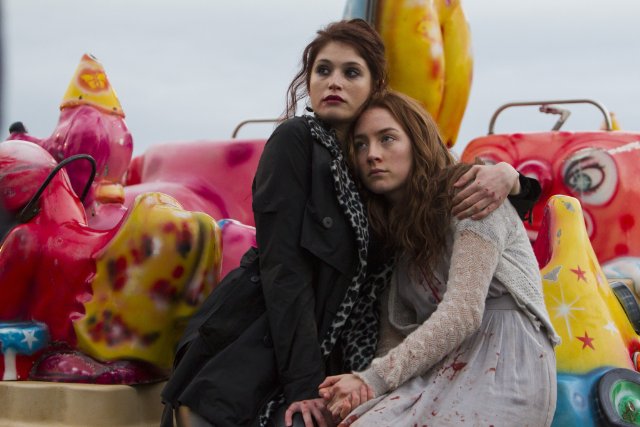 Over the course of the film, the secret story is revealed and the sacrifices Clara has made for her daughter become more clear. Two officers of the Napoleonic wars are involved, amusingly named Darvell and Ruthven — which Byronic avatar will do the women more harm? Both the modern and 19th century scenes are filmed beautifully. Against a background of muted greys, blacks and sandy browns that evoke the English and Irish seaside, characters' clothes and fairground lights glow red, blue and green.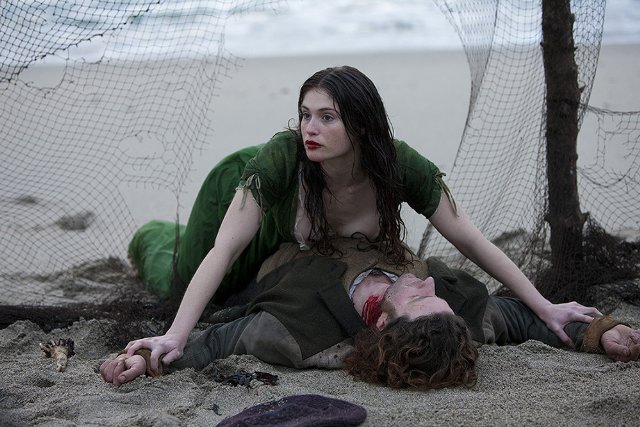 Byzantium mirrors the director, Neil Jordan's, previous film, Interview with the Vampire, in that Clara's protection of Eleanor's innocence leads her into greater threat, not lesser, when she finally tries to break away. In Interview, Louis and Claudia stumble into a baroque underworld of preternatural theatrics after ostensibly killing Lestat; in this film, the stakes may be no lower, but the action is far more subdued. The real drama is in the tension between the two women, in the "clean life" Clara wished for her daughter when she was born, instead of her own "despoiled" one, and in what has become of them both since.
Finally, I must mention that Caleb Landry Jones' character of Frank, a sixth-form student to whom Eleanor draws close, is a pleasure to watch. "Earnest, clueless, about as sexy as a pair of shoes," he may be, but he's also brave and honestly cares for her. (And I totally would have, when I was in sixth form.) What's more, his first scenes are something rare and truly refreshing: boy meets girl, boy does something nice for girl, boy gives girl his phone number and asks her out. Girl refuses and walks away. In the background, as she walks, boy stands up and walks off in the opposite direction. It was such a relief to see a love story that didn't start with a man harrassing a woman!
If you get a chance to see Byzantium, do.